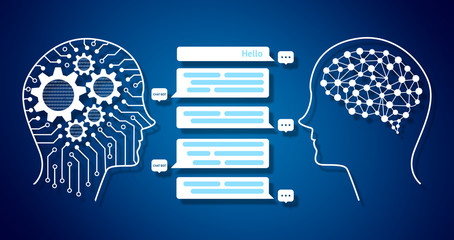 Overview
A chatbot (also known as an Artificial Conversational Entity) is a computer program which conducts a conversation via auditory or textual methods. Such programs are often designed to convincingly simulate how a human would behave as a conversational partner, thereby passing the Turing test.
ChatBots enable a customer service interaction to occur without the direct involvement of a human being. By automating basic customer service interactions, humans can spend their time assisting with more high-priority or complicated tasks as opposed to answering basic mundane questions.
Use cases
ChatBot technology can be used within many industries to enable basic interaction with end-users.
Virtual Customer Service and Troubleshooting
Marketing
Product Sales
Personal assistants (Siri, Amazon Echo,  Google Home)
Business Process Automation
Interactive voice response (IVR) is a payment solution that allows callers to interact with an automated telephone-payment system to make ACH, Debit and Credit Card payments 24/7.
Our Project
Project Idea
Using https://recast.ai we will create a simple chatbot for a Bagel Shoppe. The chatbot will be able to assist a customer with ordering a bagel the way they want it. By asking leading questions the chatbot will help the customer to choose and build the bagel that they desire (eg: a toasted poppy seed bagel with garlic/basil cream cheese and lox). The end of the interaction could point them to a hosted API for payment. This can streamline the ordering process and enable the agoraphobic patron to enjoy a freshly prepared bagel, potentially without ever interacting with a single human being. However the robotic bagel-builder would have to be created first in order to fully realize that potential.
GitHub Resources
Other Resources
https://recast.ai/

- Chatbot builder with a user-friendly UI for building a custom chatbot, as well as directories full of prepared variables.
Legal Stuff
recast.ai are registered or unregistered marks belonging to their respective owners who are unaffiliated with and do not endorse or sponsor Vantiv, and Vantiv likewise does not endorse or sponsor recast.ai